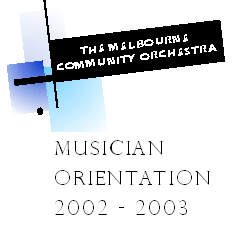 Welcome To the MCO

The MCO is a not-for-profit volunteer organization that provides the Greater Melbourne area FREE concerts at the Melbourne Auditorium, 625 E. Hibiscus Blvd., Melbourne, FL.

The orchestra performs 2 nightly concerts 6 to 8 times a year; plus other special extra engagements such as weddings, college graduations, grand openings for hotels and businesses, art festivals, and banquets.

Founded in 1989 by a small group of amateur musicians, our membership consists of 40 - 60 members, ranging in ages from teenagers to senior citizens; all abilities - retired professional musicians to people who have taken up an instrument "later" in life. Don't let that mislead you - our "late bloomers" work diligently, constantly striving to meet the repertoire's and our Maestro's demands.

Our library contains a varied range of musical selections - the standard Classical works for orchestra, operatic overtures, show tunes from Broadway shows, modern medleys and Pops pieces; just to give you a sample of our range. During our 14 year existence, we have performed works written by local composers and have produced and successfully staged two musicals ... OKLAHOMA and ANNIE GET YOUR GUN.

Under the baton of our hard working, very dedicated Maestro, Witold Dobrzynski who has been Music Director since February 2000, the MCO (especially the String section) has made steady improvement. The increase in our concert audience size has been the direct reflection of the Maestro's tutelage and guidance.

REHEARSALS

Currently the MCO rehearses late MONDAY afternoons. The STRING section begins at 4:00 - 5:00 pm with the entire Orchestra joining them at 5:15 - 7:00 pm. The STRINGS meet for an additional rehearsal on THURSDAY evenings 7:00 - 9:00 pm.

Location is the Melbourne Municipal Band Rehearsal Hall with occasional rehearsals meeting at the Melbourne Auditorium or the "Old Band Room" located behind the present Rehearsal Hall.

Holidays? Yes, if they fall on a Monday, we're usually here working on the next concert. When there is a cancellation you will be notified, usually during the announcement time at rehearsals.

YOUR attendance at rehearsals is vital … make every effort to attend.

The MCO has worked very hard to build a repertoire and reputation. You will be expected to come to rehearsals on time, prepared and ready to work. That being said, we do manage to have some fun too. MCO can become addicting … ask your stand partner.

Concert performances

Presently the Orchestra has a 3 rehearsal attendance requirement ... you must attend at least THREE (3) full Orchestra rehearsals to perform in a concert. And for the String player … string rehearsals don't count towards this requirement; string rehearsals are very important, but considered extra.

The decision for a musician to play in a performance, is ULTIMATELY up to the discretion of the Maestro and your Section leader.

Music Folders

Our music Librarian is Shirley Brunton (French Horn).

MCO music is kept in large blue bins by the front door of the Rehearsal Hall. The folders must be signed out ... there is a sign - out sheet in one of the bins.

We ask for your name and phone number … a way to get in contact with you. YOU are responsible for this music. If you are unable to attend a rehearsal and share a folder, or must leave the area for whatever reason, YOU are responsible for returning the MCO's music.

Folders are collected after the last night of the concert to be filled with the new concert repertoire for the next rehearsal.

Music is one of our largest expenses; treat it kindly. The music must last us a long time and is not easily replaced.

CONCERT ATTIRE

The MCO has 2 "seasons"; the Formal or "High" season, and the Informal - our Picnic Pops Series. As a member of the MCO you will be required to help us continue to present a unified look to the organization. Many of us have found most of our "uniforms" at local thrift and consignment shops. The following are our requirements.

FORMAL concert Attire:

GENTLEMEN: Tux or black/dark suit with black/dark dress trousers, white shirt, black bow tie, black socks, black dress shoes

LADIES: black dress or blouse (w/ SLEEVES), black skirt (Waltz length or longer) or black dress slacks, black or natural stockings, black dress shoes.

INFORMAL or POPS CONCERT Attire:

GENTLEMEN: white short sleeved shirt, black dress trousers, black socks, black dress shoes.

LADIES: white top (w/ SLEEVES), black skirt (Waltz length or longer) or black dress slacks, black or natural stockings, black dress shoes.

Making the MCO a Success

As a volunteer organization, EVERYONE must do their part, and well … THIS MEANS YOU!

First of course is to PRACTICE your part at home, in preparation for the next rehearsal. Rehearsal is NOT the time or place to practice. Come to rehearsals on time; meaning, be in your seat, tuned, ready to play at the scheduled time on the down beat. Occasional tardiness happens to everyone, just don't make it a habit. Be considerate and respectful of the others - get to your seat as quietly and quickly as possible.

Besides being a musician, there are numerous other non-musical jobs and related tasks you can become involved with; the MCO consists of volunteers just like you.

To be redundant … EVERYONE MUST "PLAY" A PART. No, you haven't done a Da Capo! Every MCO member is Obbligato - very important and indispensable to keeping the organization running. Help is always needed with stage set-ups, stage decoration, in the music library, serving a term on the Board of Directors, selecting music for the next concerts with the Music Committee, distributing concert flyers and tickets to the community at concert time, giving a ride to members in need of transportation, sending cards to ill members or writing a thank you note to the Mayor … there are multiple ways for you to toot your horn, beat your drum or fiddle around and let your other talents shine with the MCO.

Make a point to get YOUR Section leader's name and phone number and give them YOURS.

Email is heavily used as a source of communication about concert info, dates, which "uniform" to wear, directions, cancellations, etc. … if you use a computer, be sure to include your email address on the MCO registration form AND add your email address to your Section leaders list. Check YOUR email frequently.

The Orchestra's email address: mcocommorch@lycos.com