The Bach "Double"
Performing The "Double" Concerto are two young ladies brought from Chicago by the Maestro.
Violin Soloists: Emily and Caitlin Ondracek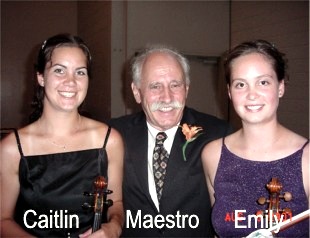 Emily Ondracek is 19 years old and will soon be attending the Julliard School of Music to pursue a degree in violin performance. She has won numerous orchestral positions including concertmaster of the Chicago Youth Symphony Orchestra, and the Encore Chamber Orchestra. She soloed with the Chicago Symphony at age 8. She is spending the summer working as a violin and swim instructor and lifeguarding with her sister.
Caitlin Ondracek is 16 years old, is home schooled and will be attending her third year in part time classes at the Joliet Community College. She began playing the violin at age 2 1/2 with the Aurora Suzuki Violins. She is in her fourth year with the Chicago Youth Symphony Orchestra and toured Eastern Europe in 1999 with the orchestra. She is currently the concertmaster of the Metropolitan Youth Symphony and enjoys playing chamber music. Diversion comes from reading, writing, swimming and running. Her future plans include study in biology and genetics. Space Coast Press Release July 26, 2001 ~ Robert Bauer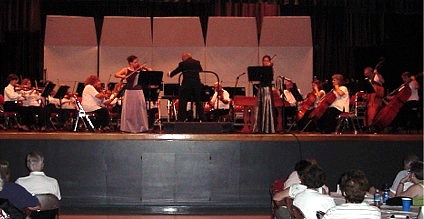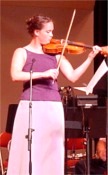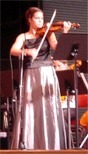 A reception was held following the dress rehearsal Monday night for the MCO members to meet the soloists.
10/19/2001